OnePlus USB Driver helps you connect your OnePlus Android smartphone, Tablet, and other OnePlus devices to your computer without having to install a separate PC Suite Software application.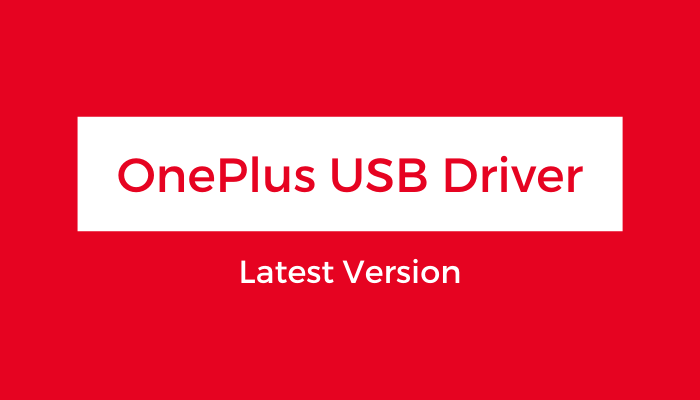 In this article, we are bringing you the official and stable version of the OnePlus USB Driver.
Download OnePlus USB Drivers
For Device: All OnePlus Android devices
File Size: 12 MB
Compatibility: Windows XP/Vista/7/10 | 32-Bit and 64-Bit
How to Install: Installation Instructions
Latest Version: If you are looking for the latest version of the OnePlus USB Driver, kindly visit this link: Latest OnePlus USB Driver
How to Install: If you want help with the installation of the OnePlus USB Drivers, you can read our detailed step by step guide here: How to Install OnePlus USB Driver
Compatibility: Please be noted that this OnePlus USB Driver software is only for computers and laptops running the Windows Operating system. Other Operating Systems are not supported at the moment.
There are several situations when you may need to connect your OnePlus phone or tablet with your computer or laptop. Here are a few examples:
For copying or moving photos and videos and other forms of media from device to PC to free up device space.
To copy media on to your OnePlus device for usage.
For flashing stock firmware on your OnePlus device.
For updating your OnePlus to the latest version of Android.
And the list goes on and on. The extent to which we depend on our computers when it comes to our smartphones is mind-blowing!
So, any time you want to connect your OnePlus device with your PC or laptop, it is important that you always have the latest OnePlus USB Drivers installed on it. The USB Drivers helps your OnePlus mobile device to effectively communicate with your PC or laptop running on Windows operating system. That is the reason why not only OnePlus but every single OEM releases constant updates to their USB Driver software.
You can download the latest version of the OnePlus USB Drivers by visiting the below link: